CLASS AWARDS
WEEK ENDING:

Friday 1st July 2022

CLASS:

GOOD MANNERS:

Manuel

MUSIC MAESTRO:

FRENCH STAR

L'etoile d'or:

VALUES & BEHAVIOUR CERTIFICATES:

STAR OF THE WEEK:

ROLE MODEL OF THE WEEK:

RUNNER OF THE WEEK:

Rubies: Tommy Silvers: Harley Sapphires: George Emeralds: Christian Opals: Golds:

READER OF THE WEEK:

Rubies: Poppy Silvers: Harley Sapphires: Ben Emeralds: Laura Opals: Golds:
RUBIES

(Year 1)

Aaryan for being like Sita Squirrel with his sentence stacking. Kainan, Aarav and Rosi for being like Coline Crab when exploring what Riverview is like during summer in Science. Rosanna for working hard to improve her Kinetic Letters.

SILVERS

(Year 2)

Sophia-Grace, James-Dean and Marilyn for using the text to understand shapes of a non-chronological report.Neve for her positive attitude. Lyra for making links between texts.

SAPPHIRES

(Year 3)

Aarya for her enthusiasm and hard work all week. George for reviewing his learning like Immie Iguana. Bailey for being like Elsa Elephant and enjoying every moment.

EMERALDS

(Year 4)

Sam for deepening the moment and writing excellent sentences in English. Ronnie for working really hard in his tests. Christian for showing brilliant defending skills in PE. Teagan for working really hard on telling the time on a 24-hour clock.

OPALS

(Year 5)

David and Arun for remembering and working well together in PE. Erin and Bonnie for being brave and singing the solo beautifully in music practise. Lily for coming up with some great actions for the song.

GOLDS

(Year 6)

Caleb for excellent performing skills and stage presence. Charlie for good vocal projection.
Attendance
Friday 24th - Thursday 30th June 2022
| | | | |
| --- | --- | --- | --- |
| Year group | Attendance % | Year group | Attendance % |
| Gold | 94.58 | Silvers | 88.62 |
| Opals | 92.00 | Rubies | 76.24 |
| Emeralds | 74.50 | Diamonds | 82.31 |
| Sapphire | 90.00 | Pearls | 76.92 |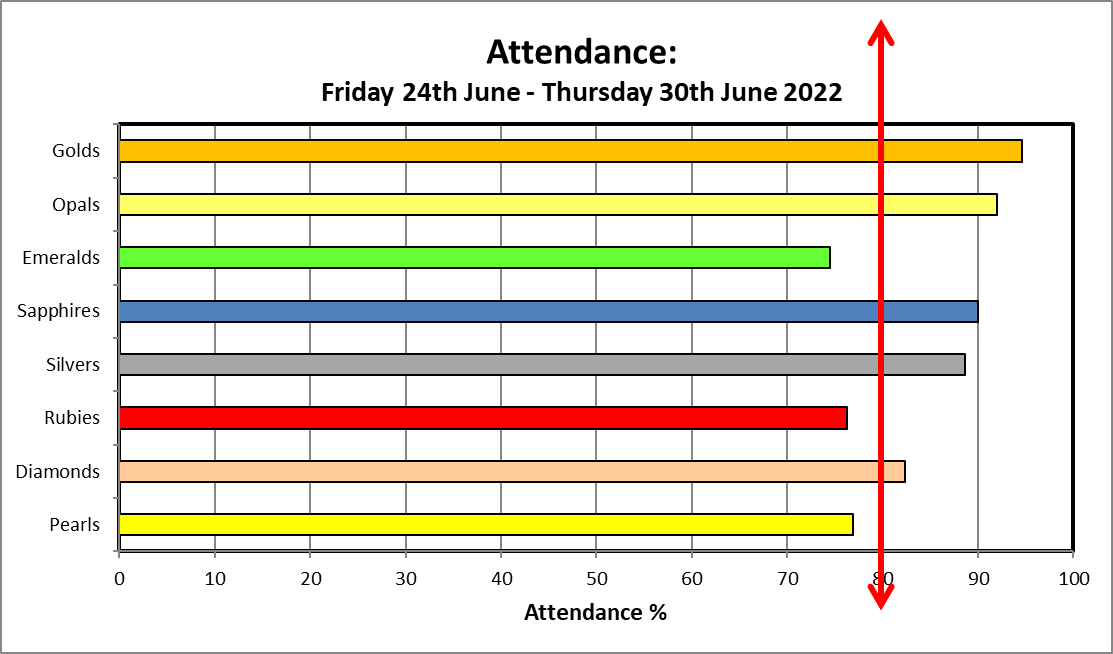 HANDWRITING COMPETITION WINNERS (10.9.21)
The following children have won the handwriting competition this week.
Rubies - Ashmitaa
Silvers- Isla
Sapphires - Aarya
Emeralds - Holly
Opals- Bonnie
Golds - Bathisan